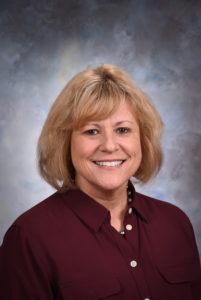 Mrs. Suzanne Borganelli
Principal/Title IX Coordinator
Hello, my name is Suzanne Borganelli and it is a pleasure to be the principal of Healthy Learning Academy.  I am honored to have the opportunity to lead a school with such an excellent tradition of education.  I care deeply about our community, students, families, teachers and staff.
I have been dedicated to the field of education for more than 30 years.  I have had the opportunity to teach many grade levels at various elementary schools in several states as well as being a college instructor for 15 years.   My husband, Dr. Greg, and I moved to Gainesville in 1989 for him to complete his residency at UF Shands and we have lived in the area ever since!
When I am not at HLA, I enjoy spending time with my family.  I love being outdoors and at our lake house relaxing! I am originally from Ft. Lauderdale so I naturally enjoy the beach. I enjoy reading and staying current with the best practices in education.   I want to always be a life-long learner.
Under my leadership, I am determined to support every child every day in every way at Healthy Learning Academy.  I will continue to bring the energy and enthusiasm needed to continue to make HLA an exemplary school.
I look forward to working with all of our students, families and staff.  My door is always open!  Please come by for a visit!
All the Best,
Mrs. Borganelli