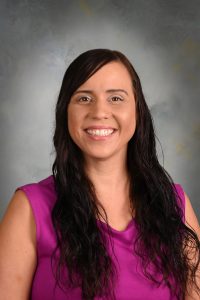 Kindergarten
Nicole Martinez
Email me at nmartinez@hlacharter.com
Hi, my name is Nicole Martinez. Hooray for Kindergarten! This will be my third year teaching here at Healthy Learning Academy. I value our mission of developing healthy minds and bodies for our students. It is truly an honor to be a part of this school and the community.
In 2015, I graduated with a Bachelors in Elementary Education from St. Leo University with endorsements in reading and teaching ESOL students. I have also completed multiple professional development courses to ensure I remain up to date with the latest technology as well as teaching techniques that can be used in the classroom.
During my free time, I love spending time with my two beautiful children. We especially enjoy being outdoors and activities such as swimming, hiking, yoga, and getting sunshine.
While in the classroom, it is important that my students are given opportunities to utilize their creativity while learning. They will participate in various art projects, writing tasks, as well as both reading and math centers designed to meet their specific needs.
I am looking forward to another wonderful year here at HLA!
Ms. Martinez